10 Ways to Reduce the Cost of Homeowners Insurance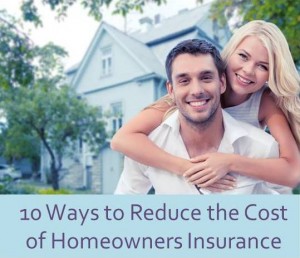 Too many homeowners tend to ignore their homeowners' insurance. But ignoring it can needlessly cost you hundreds or thousands of dollars.
Do we ignore it because we think there's not much we can do to affect the price we pay for homeowners' insurance? Oh, but there are! Consider these factors that can either save you money – or cost you big.
Shop around
It's easy to assume that all insurance companies will charge the same rate to insure a home. Not true! Rates can vary. Shopping around can help.
Bundle your insurance
When shopping for homeowner's insurance, also talk to your auto insurance company. Some insurers offer multi-policy discounts up to 15%.
Consider insurance when house shopping
When searching for a new home, consider the age, construction and even proximity to the nearest fire department. These may all factor into determining the premiums for your homeowners' insurance. For example, an older home may cost more to insure, as the materials and features in older homes can be more costly to repair and replace, such as plaster walls, ornate moldings, stained-glass windows and hardwood floors.
Consider a potential new home's location
Does the home have a view – of the fire station? Generally, the closer you are to the fire department (staffed by professionals, not volunteers), the less you'll tend to pay for home insurance. Proximity to fire hydrants can also help your rates. If you live in a rural area or far away from help, you may pay extra.
Keep your roof in good order
Roofs are a big deal to insurance companies – even if you don't give it much thought. If you happen to repair or replace your roof, make sure you let your insurer know, because your policy may cover some of the cost or you may be eligible for lower premiums.
Think twice before installing extras 
Did you know that a swimming pool, hot tub, trampoline or other backyard extras can increase your insurance rates? They are viewed as safety risks, and insurance companies charge more to cover those risks.
     7. Your dog(s) 
Talk to your insurer before you bring home on or more dogs. There are some breeds that represent larger risks (Pitbulls, Dobermans and Rottweillers) and you'll have to pay extra to cover that risk.
     8. Go easy on the remodels
In addition to the remodel, if you add debt to cover the remodel, that may hurt your credit – and you may see your premiums go up as a result.
     9. Update wisely 
Talk to us about ways to protect your home that might reduce your premiums. Adding storm shutters and installing other weather protection devices may help save you on insurance costs. If you live in a hurricane or flood zone, you know you're already paying more, but we might have some additional tips that can help you out.
   10. File claims judiciously 
Yes, you have homeowner's insurance to protect you – but be smart about when you file claims. The more claims you make, the higher your rates will be. Additionally, your claim history will follow you to new homes and may cause insurers to offer higher-than-expected quotes. Use insurance as needed, but don't overdo it.
What additional questions do you have about homeowners insurance? We're here to help!