11 Ways to Get Your Home Ready for Winter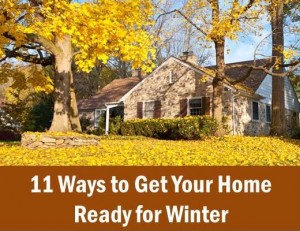 The warm afternoons of fall are the time to prepare your home for winter. Don't wait for the first pick drop in temperatures, or the first dusting. Could you use this time to make sure gutters are clear, or to winterize your sprinkler system?
Some of the common activities that homeowners can do now, before the weather turns winter-like include:
Unhooking garden hoses and covering the exterior faucets with insulated covers
Blowing out your sprinkler system to prevent damage from freezing temperatures
Checking your exterior doors for gaps and add weather stripping as needed.
Checking for gaps around your window frames and re-caulk as needed.
Inspecting your roof for damage from summer storms
Making sure all gutters and downspouts are clean and free of obstruction
Swapping out the filter in your furnace
Reverse the direction of your ceiling fans to a clockwise direction (this will create an updraft and push the warmed air down)
Check chronic spots for icicles and ice dams that cause meltwater to back up and flow into your house (maybe install heating coils to prevent freezing)
Get your chimney inspected to make sure it is clean and in good repair
Stock up now on salt or ice melt for your driveway and walkways
Taking care of your home now can help you save on utility cost, hassles and potentially claims against your homeowners insurance.
If you would like to explore additional ways to reduce your homeowners insurance costs, or increase your protection for the same amount of money, let's talk!