12 Ways to Reduce Your Car Insurance Premiums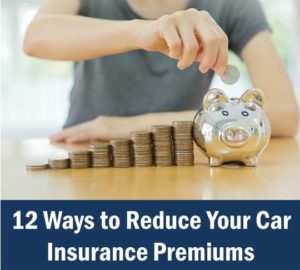 Paying for car insurance is just one of those things we have to do if we drive. But, why pay more than you have to? Here are 12 ways to reduce your car insurance premium:
Consider the Cost of Insurance When Buying a Car
Your car insurance premiums include the risk and repair costs associated with your vehicle. That means the original price paid, the intended use, the potential cost of repairs, the odds of theft and the safety features that come with your car all impact the cost of your insurance. This generally means that insuring a minivan will cost less than insuring a fancy sports car.
Bundle Insurance Policies
Bundling your car insurance with homeowners' or renters' insurance from the same provider can provide significant savings, compared to having different policies with different insurance companies.
Set a Higher Deductible
You can lower your monthly premium by choosing a higher deductible. This means you'll pay more out-of-pocket for repairs before your insurer covers the balance. Just make sure you can afford to cover the deductible.
Sign Up for Group Insurance
Large employers, universities, and organizations frequently negotiate group insurance plans from certain providers, which may offer you cheaper rates. Check with your employer, or alumni groups (and any other official groups you're a part of) to see if they have group insurance options.
Install Anti-Theft Devices
Most insurers offer discounts for a having an anti-theft device on or in the vehicle. Ask your agent what devices qualify, and how big the discounts could be.
Maintain a Good Credit Score
In most states, your credit score is factored into your car insurance prices. People with high credit scores generally get the best rates, while those with lower credit scores pay more. 
Get a Good Driver Discount
Each insurance company has its own definition of a "good driver."  Check with your insurer to find good driver discounts.
Sign Up for Automatic Payments
Insurance companies usually offer discounts when your payments are automatically withdrawn from your bank account every month
Pay Your Insurance All at Once
You may get an additional discount by paying six or 12 months' worth of insurance all at once.
Find Other Discounts
There are usually many discounts available for auto insurance (usage-based driving discounts, defensive driver courses for the elderly, mileage-based discounts and student discounts); you just have to ask.
Find High-Risk Auto Insurers
If you have a poor driving or poor credit, you may be considered a high-risk customer. Look around – some insurers offer better rates for high-risk drivers than others.
Eliminate Unnecessary Coverage and Services
Do you still need or want roadside assistance? Or tow coverage? Review your plan to make sure you're only paying for what you need.
Want to make sure you have the right balance of protection and affordability? Ask us! We're happy to review your current car insurance and make sure you understand what your policy covers, whether or not you have enough liability insurance, and check for all available discounts!