3 Car Insurance Questions You Need to Ask Now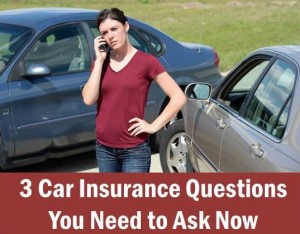 If you don't know what questions to ask, getting car insurance can be confusing. But when you know which questions to ask, getting the right levels of car insurance protection can actually be rather easy.
When buying car insurance it is important to find the right balance between coverage and affordability, right? If you have a loan on the vehicle, or are leasing the vehicle, you'll be required to carry higher amounts to cover the value of the car and protect the lender. If your car is 20 years old, maybe all you need is liability insurance to cover damage and/or injury to other people and their property.
How do you know?
The best way to make sure you're getting the right balance between coverage and affordability is to ask an insurance agent these three questions:
What does the policy cover? Make sure you know what you are paying for, and add things you want (Roadside assistance? Towing?) and drop things you don't want (Roadside assistance? Towing?).
Do I have enough liability coverage? Liability coverage may be mandatory and state laws set a minimum coverage limit, however, those state minimums are often too low to protect you in the event you cause a multi-vehicle accident. Ask your agent what the average claim amount is.
Are there any available discounts? Many drivers can benefit from discounts. Many carriers offer discounts based on lower miles driven per year, or for going a certain number of years without an accident. You can't get the discounts if you don't ask about the discounts!
Want to make sure you have the right balance of protection and affordability? Ask us! We're happy to review your current car insurance and make sure you understand what your policy covers, whether or not you have enough liability insurance, and check for all available discounts!