3 Life Insurance Mistakes to Avoid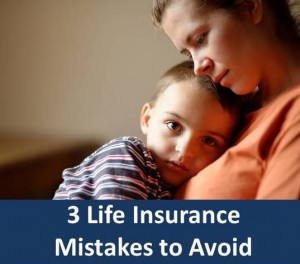 Here are three mistakes people make when buying term life insurance.
Not Buying Enough Protection, or for Long Enough
Always buy at least 10x your income in life insurance coverage. If you're getting a policy through work, it is likely only one year's worth of coverage, which isn't nearly enough for those who depend on you now.
If you're the primary earner in your household, your spouse and children need to be taken care of if something happens to you. When you have plenty of coverage in place, it will allow them to maintain their lifestyle until they figure out their next steps.
Regarding the length of the term, you might think you're saving money by choosing a shorter term of coverage, like 10 years instead of 20. But what happens if you buy a 10-year policy and you have medical issues nine years from now that raise the cost of your next plan—or make your ineligible for coverage? Those few dollars saved earlier are now exponentially more expensive.
Waiting Too Long to Get Covered
The longer you wait to buy life insurance, the greater the possibility something will happen that will disqualify you from life insurance, or that will make your coverage more expensive. Life insurance premiums generally increase as you get older, so buying sooner rather than later can save you money.
Failing to Review and Update Your Life Insurance Policy
It's always a smart idea to go over your term life insurance policy to make sure you have exactly what you need for your current situation. Your coverage might have been fine 10 years ago, but that doesn't mean it works for you now. If you have added a mortgage or student loans, that initial term pay-out may no longer be sufficient.
Life insurance is a major part of a healthy financial plan. Don't put off buying it, or you could find leave your family in a major financial hole one day.
What other questions might you have about life insurance? We'll be happy to help you understand your options. Contact us Today!