3 Reasons Why Renters Need Insurance Too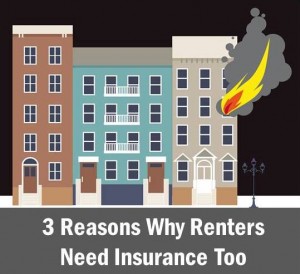 Whether you own your place or rent it, you still need to protect your things. If you own a home, your mortgage lender will require that you have homeowner's insurance. But if you are renting, there probably isn't anybody requiring that you have renters insurance (outside of a few landlords), and that leaves a huge number of Americans at risk for losing all their possessions.
How does Renters Insurance Work?
Renters insurance works pretty much the same way Homeowners insurance does but is customized for people who are renting the place where they live.  The Landlord has insurance on the structure itself and the property, but that insurance only protects their the Landlord. It does not protect you.
Renters insurance specifically covers your:
Personal possessions – Renters insurance can replace or pay you for clothes, furniture, electronics, jewelry, etc., lost in a covered claim (such as water damage, fire, etc.)
Personal liability – If a guest is injured in your rented home or on your rented property and it is your fault, you have financial protection
Medical payments – If someone other than a guest gets hurt at your place (delivery person, maintenance person) you'll have coverage for medical expenses
Additional Living Expenses – If your rental place is damaged and becomes unlivable there can be money available for temporary living expenses.
It Fills Coverage Gaps
Renters insurance can also fill gaps in your other policies, such as insurance. If your car window is broken into and personal items taken (a jacket, a phone, a laptop computer, etc), car insurance might cover the glass, but usually not the personal items that had been inside. However, your Renters insurance could help replace those possessions.
It's Very Affordable
Because you are only insuring personal possessions, they cost far less to insure than an actual structure. Renters insurance is very affordable.
Fires, water damage, extreme weather, and theft are all things that happen and that can negatively affect you and your financial situation whether you rent or own the place where you live. You should be protecting yourself against loss in either situation.
Have questions about Renters insurance? Want a quote on a Renters insurance policy?