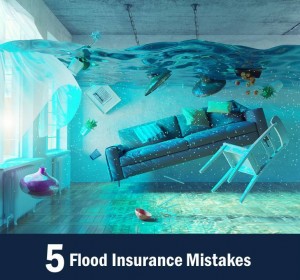 5 Flood Insurance Mistakes
If your home is damaged in a flood, are you covered?
Maybe.
Flood insurance is one of the least understood policies around, and a single mistake with flood insurance can be very costly. Let's correct these mistakes right now!  
Mistake #1: Assuming Flood Insurance is Only Needed in High-risk Areas
You don't have to be in an identified flood plain to be at risk. 25% of flood insurance claims come from homes that are not in an officially identified flood plain.
Mistake #2: Assuming Flood Plain Maps Don't Change
Flood plains and flood plain maps do change! If you weren't in a flood plain before, it doesn't always mean you're not in one now. Counties do, from time-to-time publish new flood plain maps. Based on those updates, your homeowners insurance rate may increase or decrease.
Visit floodsmart.gov to see the latest maps.  
Mistake #3: Assuming a Homeowners' Policy Covers Flooding
It's important to note that flood water damage is not normally covered by typical homeowners' insurance policies (nor by umbrella policies). To specifically add flood insurance to your home, the National Flood Insurance Program provides up to $350,000 to cover the loss of your home and possessions. If you need coverage beyond $350,000 you'll need to seek supplemental coverage – but keep in mind that the average flood claim in the US is around $30,000.
Mistake #4: Assuming All Water Damage is the Same
If a storm pulls off or damages your roof so that water comes through, that damage would be covered by your homeowners' policy. But if a river overflows and fills your home with water, that damage can only be covered by flood insurance.
Mistake #5: Thinking Your Flood Insurance Covers Everything
Maybe, maybe not.
Federal flood insurance maxes out at $250,000 for your structure and $100,000 for personal possessions. If your home and/or possessions are valued beyond those thresholds, you'll want to find supplemental flood insurance to help you out.
Note:
Federal flood insurance only pays to rebuild the structure and replace possessions at current value (not replacement value).
It won't cover items in a basement beyond your heating and air-conditioning system.
It won't cover living expenses if you are displaced while your home is being repaired or rebuilt.
If you have questions about your homeowners' policy and want to discuss your risks – let's talk.