The 5 People Who Affect Your Car Insurance Rates the Most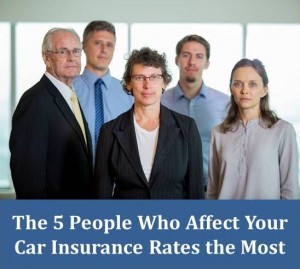 Everybody knows your driving record affects your rates, and that a single accident can jack up those monthly premiums. But did you know that there are five specific people in your life who can affect your insurance rates?
The Landlord
Just having a landlord affects how much you pay for auto insurance. Generally, people who own their homes pay less for auto coverage than people who rent.
The School Teacher
The insurance industry generally believes that responsibility and good performance in the classroom will continue on the roads. Data shows that good students are better drivers than not-so-good students.
The Bill Collector
How's your credit report? If it's not great, you may be paying more for insurance (except in California where personal credit cannot be used to set car insurance rates). A 2013 study by the Consumer Federation of America found that some drivers with bad credit could pay twice as much for their coverage as those with excellent credit — even when their driving records are identical. People with good credit are generally better drivers who make fewer claims on their auto insurance.
Your Neighbors
Your neighborhood can affect your auto insurance rates, as can the people in your neighborhood. If your area sees a higher-than-usual number of car accidents, insurance companies will view your ZIP code negatively. Insurers also look at vandalism and theft rates in an area. If you live in a higher-risk area then you're more likely to file an auto claim. The first rule of real estate is location, location, location. It is also true with car insurance.
Your Spouse
People who are marred generally pay less for auto insurance than single people. There are exceptions, of course: If one of you has a checkered driving history or poor credit report, you might both be paying more. In that case, you may get a better deal with separate policies. But be sure to compare rates with different carriers to make sure you're getting the best value possible.