Getting into a Car Accident is Getting More Expensive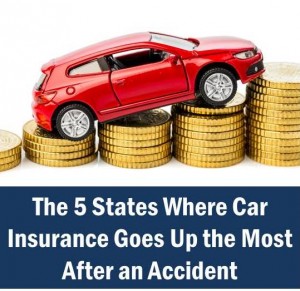 It is estimated that a single accident claim of $2,000 or more can raise your car insurance premiums by an average of 44%. A second claim in the same year could raise your insurance premiums by 99.4%. That's essentially double.
The rate increases drivers take on after filing a claim keep getting bigger, and this trend is likely to continue. How much premiums increase after a claim varies widely, based on the state where the vehicle is registered.
In which states do premiums increase the most? In which states to premiums increase the least?
The five states with the highest increases after the filing of a claim are:
California: 63% increase
New Hampshire: 60% increase
Texas: 59.9% increase
Massachusetts: 57.3% increase
North Carolina: 57.3% increase
The states with the smallest increases after the filing of a claim are:
Maryland: 21.5% increase
Michigan: 26% increase
Oklahoma: 28% increase
Montana: 30.2% increase
Kentucky: 30.% increase
Why the wide range in rate increases? Premium hikes tend to vary state-to-state due to differences in insurance regulations.
For example, the State of California limits the factors that insurance companies can use to determine rates. While insurers in other states can include other factors when setting rates, such as the insured's credit score, gender, age, marital status, and job title, insurers in California can only base rates on a driver's actual driving record, average miles driven per year and years of driving experience.
With so much emphasis being placed on actual driving history, it is no surprise that rates will increase so much after an accident.
What has your experience been after filing an accident claim? Let us know about it below!
Do you have questions about auto insurance? Just ask us!