6 Factors Affecting Homeowners' Rates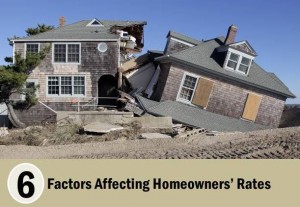 The location of your home, the construction of your home and its condition all affect how much you pay for home insurance.
Here are six factors that influence your home's insurance rates.
How Close is Your Home to a Coastline?
Homes located near the coast are generally more expensive to insure than those that are inland. Homes near the coastline may need a separate deductible for hurricanes or need a separate windstorm insurance policy for their homes.
How Close is Your Home to the Fire Department?
Homes near a fire station generally pay less than homes far from fire stations, and homes near fire hydrants generally pay less than homes that are far from fire hydrants. This is why homes in cities and suburbs usually pay less than homes in rural areas.
How Old is Your Home?
The age of your home and how it was constructed are big factors in your home insurance rates. So it's important that homeowners accurately estimate the true cost of rebuilding their home if it should be damaged.
Would the house be difficult to replace or repair? It is likely that people with older homes will pay more to repair or rebuilt their homes. Older homes feature living surfaces such as hardwood floors, plaster walls, ornate moldings and stained-glass windows. But any updates to roofing, plumbing, electrical and HVAC may reduce your insurance costs since these improvements generally reduce the likelihood of damage or loss. Anytime you make a home improvement, you should talk with your insurance agent to be sure the improvements themselves are covered and to see if those improvements will save you any money on your premiums.
How New is Your Roof?
New/newer roofs are better able to withstand wind and hail, and a new roof may reduce your homeowners' premium. Conversely, older roofs may have difficulty withstanding wind and hail, and your home may cost more to insure.  Anytime you replace or repair your roof, you should talk to your insurance agent to be sure you're covered and realizing any savings that may come along with the improvement 
5. What is Your Claims History?
Insurers have identified a strong correlation between past claims made and the likelihood of future claims being made. The more claims you've made in the past (even at a different address), the higher your insurance is likely to be.
6. How Good is Your Credit History?
Insurance companies use your credit history when creating rates (except in California, Hawaii, and Massachusetts). They have found that homeowners with higher credit make fewer, less expensive claims those homeowners with lower credit.
As you can see, insurance companies use several factors when calculating your home insurance rates. Let's talk about finding the "just right" coverage for your home.