Add a New (and Fun) Twist to This Year's Holiday Entertaining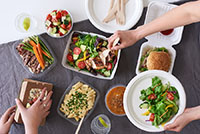 Sick of hosting yet another sit-down dinner, or the usual holiday open house? Mix it up this year. Your guests will enjoy the new twist. Best of all, so will you.
Here are four new takes on holiday parties:
Do it after Christmas
Finding a December date that works for everyone can be tough. Why not wait until after the craziness dies down and host a relaxed, post-holiday bash? Everyone will still feel festive but probably not stressed.
Order in
Who says hosting means cooking? Order in instead. Offer a selection of gourmet pizzas, sushi, or Chinese takeout. It's fun, delicious – and easy. Don't fuss with cutlery; supply chopsticks and lots of table napkins. Set out a variety of beverages, add a simple dessert, and you have a dinner party!
Try brunch
Host a brunch. Waffles, fruit salad, eggs, bacon, and French toast can all be whipped up quickly and served buffet style. Skip the dining table and eat in the living room for a relaxed party atmosphere.
Turn it into a game
Potlucks can be boring, but not when you add the element of competition. Host a contest. Call it "TV Chef: Holiday Edition," and ask each guest to contribute a dish. Assign categories, such as appetizers, salads, mains, sides, and desserts. (Hint 1: ask what they're bringing ahead of time to avoid duplication.) You'll need volunteers to judge. (Hint 2: kids might enjoy being on the judging panel.) The winning dish gets a fun prize. You relax. Everyone enjoys. It's a win-win!