Adding a Teenage Driver
Adding a Teenage Driver to Your Auto Policy will increase your rates, but these tips will help soften the blow.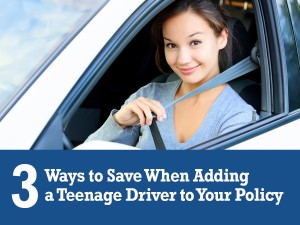 But when that magic moment arrives, here are three ways you can reduce the inevitable jump in costs when you add your teenager to your auto insurance.
List your teenager as an occasional driver. As an occasional driver, your rates may only double. If you list your teenager as the principal operator of the car, your rates may triple!
Insist on good grades. If your teenager maintains a 3.0 GPA or better, that can reduce your premium by about 15%
Have your teenager drive an older vehicle – one which doesn't need collision or comprehensive coverage. This could save you about 40%.
And of course, insist on safe driving! Speeding tickets or at-fault accidents will likely undo any of the savings you've achieved above!
Are you adding a teenage driver soon? Let's talk about options that provide adequate protection without breaking the bank.