What Is the Best Exercise on the Planet? You Decide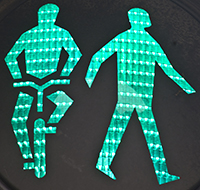 It's generally agreed that cycling is the best exercise on the planet – unless you ask walkers, who say nothing beats walking for a whole-body workout. And the debate goes on.
As it turns out, the workout you get depends on the modality you choose, and both activities are good forms of exercise – for different reasons.
Do you want to bulk up or slim down? Are you looking to increase endurance? Is your concern long-term cardiac fitness or short-term shaping?
Both biking and walking provide aerobic exercise, so they increase heart rate and are likely to improve cardiac function. They also exercise muscle and burn calories, which can be important if weight loss is your ultimate goal (although there's debate on that, as well).
According to Jessica Martinez with Livestrong.com, "A 130-pound person, walking at a moderate pace…burns 60 to 70 calories per half-hour." Martinez adds, "Walking can reduce belly fat, lower blood pressure, and raise your production of HDL, or 'good' cholesterol."
But, in another Livestrong article, Deborah Green writes, "A person who weighs 160 pounds will burn about 288 calories in one hour of cycling at a leisurely pace." And strenuous biking can make muscles work harder, so if you're going for that "ripped" look, biking may beat walking.
John Metcalfe (sort of) sums it up in CityLab. "As efficient as walking is, biking is more efficient, having the lowest energy cost of all transportation options, including walking, swimming, driving, ride-sharing, taking the train, and trotting through a sun-dappled meadow on a horse." Biking? Walking? The debate continues. Swimming, anyone?