Bike Helmets: Providing Protection While You Pedal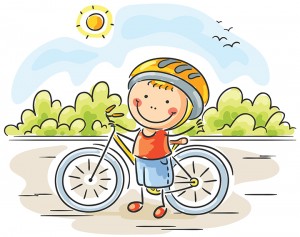 Choosing and properly wearing the right bicycle helmet helps protect you when you're riding. The National Highway Traffic and Safety Administration (NHTSA) offers these tips:
Buy/Fit the Helmet for Now. Buy a helmet that fits your head. The same applies for kids. Don't buy a helmet they'll "grow into."
Ensure Helmet Comfort. You're more likely to wear a helmet you find comfortable and attractive. Readjust as necessary to ensure it fits right each ride.
Cover Your Forehead. Adjust the helmet fitting based on your helmet first being in the correct position, level on the head and low on your forehead.
Adjust the Straps. Both the side and chin straps must be snug.
Avoid Helmet Rocking. Your helmet should not rock forward, backward, or side-to-side on your head. If your helmet rocks more than an inch, readjust it.
Be a "Roll" Model for Safe Behavior. Everyone – adults and children – should wear a bicycle helmet each time they ride. Wearing a helmet each ride can encourage the same smart behavior in others.
Find out more about bicycle safety from NHTSA online.