Are There Blind Spots in Your Auto Coverage?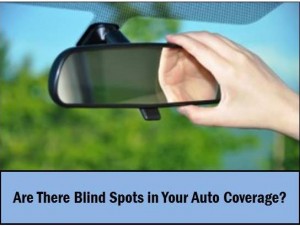 A recent study released by the American Automobile Association (AAA) indicates that more than 33% of drivers have not reviewed their auto policy in the last year. If it's been that long since you have reviewed your policy, there might be some blind spots that you can correct.
Taking a few moments to review your policy will help ensure that you are getting the right combination of protection and pricing for your situation. You might even find new ways to save money.
Here are the three most common "blind spots" that drivers can correct with a policy review:
Missing out on credit-based discounts
Most insurance companies use credit-based insurance scores to calculate the likelihood that you will file a claim. The better the credit score, the lower your price. If in the last six or 12 months your credit score has improved, you could see lower car insurance premiums.
Missing out on savings that comes with bundling policies.
Most insurance companies offer significant discounts to customers who insure multiple assets, such as home + auto(s). By taking all of your insurance business to the same company, you may say save a lot of money – and enjoy the convenience of having only one point of contact when there is trouble.
Paying monthly installment fees
If your cash flow allows it, you may enjoy a significant savings when paying six months' or 12 months' of premium upfront. Since most insurance companies add $3 or $5 (or more) to every monthly payment, pre-paying your policy can spare you those fees, and eliminate the possibility of being charged a late fee if your monthly payment is late.
Blind spots can be dangerous – and costly!
We invite to sit down with us in-person (or over the phone or video chat) to review your current insurance coverage for gaps that leave you exposed, or overlaps that are costing you money. Let's find those blind spots and get you properly protected!