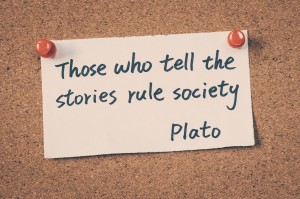 Business Survival Skill: It May Surprise You
The skills required to survive in business in the future do not lie in technology. According to Shane Snow, writer and chief creative officer of marketing firm Contently, storytelling will be the #1 business survival skill in the next five years.
Although storytelling has a long and noble history, it's not had much traction in business situations. Now the corporate buzz is about storytelling, because, as Snow suggests, "those who can create, find, and share the good stories will build followings, to their outsize advantage."
Why? Good stories "stick in our minds and help us remember ideas and concepts in a way that numbers and text on a slide with a bar graph don't," says Snow. And stories attract our interest; they may even motivate us to action.
Owners may not realize it, but every business has a story. And now companies have the perfect platform to relay it. Social media has made business comfortable conversing with customers. Increasingly, executives are communicating through social media as though they were having a private conversation. This is the most valuable survival skill of all.
These days, words like "communication," and "customer interface" are empty promises, without a schtick – a special gimmick or talent. Storytelling will be your schtick, distinguishing you from your competitors.
A story well told and compelling will cut through the "noise" and speak personally to each customer. It's what marketing is all about.