How and What You Can Learn from Your Kids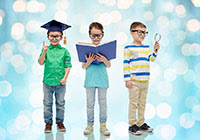 Most parents will tell you that having children teaches you a thing or two. It tests your patience and your ability to go without sleep.
It teaches you how to change diapers, how to read storybooks like a comedian, and how to hold a 20-pound object while making pasta.
But that's not all – it turns out, kids are pretty wise, too.
Here are three of the most important things you can learn from your children:
There are different ways of doing things
Toddlers want to try things on their own. They don't want their parents to show them the "right" way; they want to see if their way works. Let's take a page from our kids. Once we learn one way of doing something, we rarely veer off course.
But experimentation is often a key to growth and learning. Let's think outside our own boxes.
There's a world of possibilities
Kids wake up each day filled with anticipation. They're excited because they know innately that they've got a whole day to find fun and adventure. When we become adults, we lose that sense of excitement and anticipation.
And we may not want to face our day because we're dreading the tasks ahead. But what if we think like a kid and try to see each day not as a list of things to do, but as a period of time we can shape and even enjoy?
We don't need much to be happy
Kids want things. They want toys, sodas, and TV shows. But they're also endlessly entertained by Lego or a big cardboard box or a day at the beach. Kids don't need much to be happy and entertained and, though we often forget it, adults don't need much either. Do as your kid does, and seek pleasure in everything, especially the small things.
We adults will be more excited, creative, and happier for it.