Celebrate All Things Feline on Oct. 29 – National Cat Day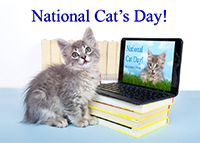 Did you know there are days devoted to our feline friends and designed to raise awareness of the number of cats without homes?
National Cat Day, which has a strong focus on adopting out homeless cats into loving homes, will be celebrated this month on October 29. And for those with good memories, this is the second such celebration this year: International Cat Day was observed earlier this summer on August 8.
There's no question we love our pets: The American Pet Products Association estimates that we will spend $69.4 billion in 2017 on everything from pet food and vet bills to other services, such as grooming and cat toys.
As well, many cat owners are building "catios" – screened-in patios for those catnaps in the sun – or buying cat condos that match their homes' decors.
So, how will you celebrate National Cat Day?
Possibly with cuteness overload, by watching the massive number of cat videos online. Or by adopting a kitty for yourself. Or volunteering at a local animal shelter. Or donating food, toys, and blankets to the many cats still waiting for their forever homes.
If you're already a proud cat parent, you can make it a purr-fect day by baking some homemade treats for your own cat. Or give Fluffy or Garfield a relaxing massage, followed by a comb-out session to get rid of all that excess fur (and hairballs).
But if you're not a cat person? Well, you may want to avoid the Internet altogether on October 29.