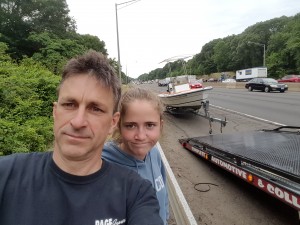 This is my story. It's a true story of me being cheap, trying to save $15 on a boat policy. It's a story about how cheaper is not always better. So here goes nothing…
I purchased a used boat in Norwalk. It was the right price, we went out on the boat and it performed well. I made plans to pick the boat up in a week and a half. In the meantime, I went to BoatUS and purchased a boat policy. That's a story for another day, because BoatUS is owned by GEICO and they are undoubtedly the enemy of every independent agent out there.
So, I bought this policy and opted NOT to purchase the Premier package, which I found out afterward would have covered roadside assisstance. It was going to cost something like $15-25 extra. I decided that was too much.
Fast forward to pickup day. We arrived at the marina, checked the boat, secured it to the trailer and set off on our way. We stopped to put air in the tires, then set off on the highway. I was nervous to drive the boat and trailer on a major highway, having never towed a boat with the car. Also, it was not my trailer.
We get on the highway and I decide that I'm going to drive 60 and keep it there. I get it up to speed and set the cruise control. Then as they say "Shit happened".
I'm not sure whether I felt it or heard it first, but something was not right. I looked into the rear view mirror and saw smoke, and knew something was definitely not right. Then I felt the tell-tale signs of a blow-out and expressed that to my daughter and co-pilot.
After pulling over to the side of the road, making calls to BoatUS (no, you do not have coverage), AARP roadside assistance (we don't cover trailers), and then a local towing company Westport Auto Repair and Towing, we had a plan. Forty five minutes later, the flatbed showed up, dragged the crippled boat and trailer onto the flatbed, secured the load and…
One hour later we were home safe and sound, but $350 poorer.
Paying $15 for potentially $350 in benefits would have made total sense and been a really good value. I was being a cheapass. Lesson learned.