Community Corner – Guilford Center for Children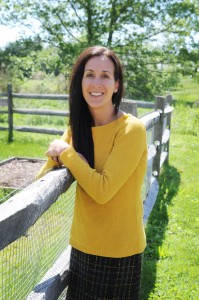 By Jennifer Carmichael
As Guilford Center for Children's Executive Director, Ashley Hillier is constantly brainstorming ways to improve upon two already robust programs — Early Education for preschoolers ages three through five and Before and After School Care for school aged children (K – 12 years old).  Previously Executive Director for solely the pre-school program since July 2012, she's excited for the opportunity to manage both programs while getting the word out about this non-profit childcare facility's safe, positive, nurturing, inclusive, and consistent atmosphere that's been ever-evolving to meet the needs of the Guilford community since 1971.
"I grew up in Guilford and my son, who's eight, attended pre-school here," says Hillier.  "I was in love with the program four years ago, and even more so now."
In fact, it was Hillier's passion for the program that prompted her to make a complete career change.  "I was working in business management for eleven years and one day I volunteered to help my son's class with a project.  It was life-changing — I went back to school to complete my Master's Degree in Elementary Education."
After teaching kindergarten in New Haven, Hillier's next stop — Guilford Center for Children.  A professionally-staffed facility and NAEYC accredited (National Association for the Education of Young Children), Guilford Center for Children provides quality opportunities for the social, emotional, physical, and cognitive growth of each child.  The curriculum includes language development, motor activities, creative arts, science, cooking, music, multicultural awareness, and time for free play.
"Making a difference in a child's life is enormously gratifying," says Hillier.  "Shifting my career path was one of the best things I ever did.  The children and families we serve are amazing, the staff is fantastic, and this entire community is so supportive.  I feel very lucky to be in this position."
The pre-school program runs from 7:15am – 5:30pm Monday through Friday at 47 Stonehouse Lane.  Before and After School Care runs from 7:00am – 6:00pm, Monday through Friday, at three of the town's elementary schools —
Calvin Leete Elementary School, Guilford Lakes Elementary School, and A W Cox Elementary School.  All meals (breakfast, lunch and snack) are prepared on site.  A sliding fee scale is available for income-eligible families for both programs.   For more information, contact the Guilford Center for Children at 203.453.8050 or visit the website at http://guilfordcenterforchildren.com.