Have You Considered Every Option to Grow Your Business?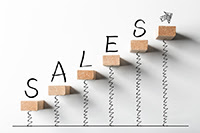 You're an entrepreneur with ambition, and the next step in your upward trajectory is deciding how to grow your small or medium-sized business.
One option you may not have considered is franchising. Does your product or service lend itself to this kind of business model?
If so, here are some things to consider when thinking through the franchise option.
Isaac Singer (of Singer sewing machines fame) became the first franchisor in 1851 when he contracted with other entrepreneurs to sell his products in different locations, ensuring a broader customer base for his sewing machines.
The franchise sector grew dramatically in the 1950s, when restaurants began to expand through franchises.
This year the International Franchise Association expects a 5.2% increase in the franchise industry's gross domestic product, to a total of $426 billion.
Annual job growth in the sector has also been higher than that of other business categories for the past five years.
As a franchisor, you will be the parent company, and other entrepreneurs will purchase the right to operate a separate location of your business.
The contract between the franchisor and the franchisee defines the rules under which the new location will operate, but among other things, the franchisor will dictate quality control and management philosophy to ensure the new location maintains the same standards as the parent company.
Finally, realize that you're putting on the line the "goodwill" you've built up over the years, and make certain that you and your franchisees are on the same page.