Is There a Difference Between Burglary and Theft?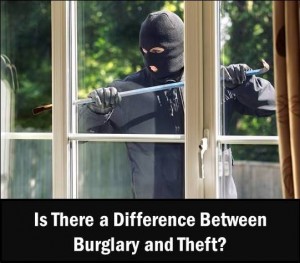 Insurance companies have two entirely different meanings for these terms. Find out what they are, and why it matters to your homeowners' insurance.
Most homeowners think of homeowners' insurance as protection against weather-related damage (wind, rain, etc.). However, homeowners' insurance also protects what is inside of your home in the event of a burglary. But are you aware that typical home insurance policies may not cover items taken by "theft?"
So – is there a difference between burglary and theft? Your insurance company may say so.
BURGLARY
Review your homeowners' policy to read how your insurance company defines a burglary. Ordinarily, burglary means entrance to your home was gained by forcible means, as in a broken window, or a kicked-in door. It could also mean that a locked cabinet or box inside your home was forcibly opened.  But violent force isn't always the determining factor. It can be called a burglary even if the only force used to enter is pushing open a door or lifting an unlocked or open window.
THEFT
Theft, by general definition, means that the person who stole something actually had access to your home and to what is inside. For example: a maid, or a carpet cleaner, or a nanny who is in your home steals jewelry from your bedroom. Theft involves taking tangible personal property (cash, jewelry, guns, automobiles, etc.) without permission and with the intent to not return it. Insurers don't ordinarily cover theft claims because they can be difficult to administer and many times can be blamed on homeowner negligence.
HOW WELL ARE YOU PROTECTED?
If you have questions about how your homeowners' policy may differentiate between burglary and theft, give us a call. We'll be happy to review your policy and make sure you get the protection you need and want.