Eat Veggies and Meat….The Solution: Flexitarianism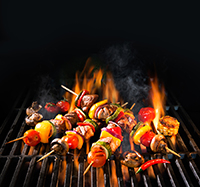 More people, even foodies, are making a conscious effort to eat less meat. But not everyone has it in them – nor is it always easy – to be a vegetarian.
Enter flexitarianism – eating mainly, but not exclusively, as a vegetarian. Voted 2003's most useful word by the American Dialect Society, flexitarianism offers an alternative to other, sometimes strident, anti-meat movements. The concept was also given a boost recently when Whole Foods, the well-known purveyor of healthy food, dubbed flexitarianism the top food trend of 2017.
This recent development has further fueled the popularity of a related phenomenon: Meatless Mondays. The meatless movement has roots stemming back to World War I, when North Americans were encouraged to participate in "Meatless Monday" and "Wheatless Wednesday" in order to conserve resources and reduce consumption. These conservation efforts proved highly successful.
However, it wasn't until 2003 that Meatless Mondays became a certified movement with a simple message: once a week, don't eat meat. It was reintroduced as a public health awareness campaign in an effort to combat the rising number of preventable illnesses linked to excessive meat consumption. (The Meatless Monday website says the average American eats "as much as 75 more pounds of meat each year than in generations past!") Since this reinvention, Meatless Monday has become a global mainstay for menu planners, with participants ranging from individuals to hospitals to schools and even corporate cafeterias.
Meatless Mondays are popular with families, as reducing meat consumption is as beneficial to our wallets as to our bodies. And rather than pushing back, most family members are now enthusiastic when meatless dishes are added to the weekly meal plan. Why? Online, on-air and in-restaurant chefs are constantly devising and sharing new and delicious vegetable-based recipes.
Finally, the Meatless Monday concept ties in well with other eat-healthy initiatives, including grow-your-own food, shop local, and of course, the significant trend of this year – flexitarianism.