Are Your Facebook Posts Inviting Burgulars?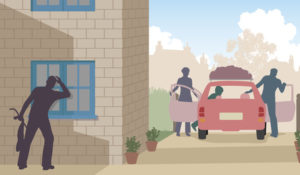 Thanksgiving weekend is the busiest travel weekend of the year –which means more homes are empty that weekend than any other, and it is when home burglaries peak each year.
If you are going away for the Thanksgiving holiday, like many people do, don't broadcast your impending departure to the world on social media! Be smart and follow these tips for keeping your home safe while you are away (at any time!).
Don't post your travel plans on social media. Don't tip off the bad guys! You never know who may see your social media posts. Announcing your travel plans can be an invitation to a would-be burglar.
Set your lights on timers. Inside and outside lights should be turned on and off at various times via automatic timers to make it look like people are home. A dark house is an invitation to a would-be burglar.
Turn your home telephone ringer down or off. You don't want someone else to hear repeated telephone rings that go unanswered.
Don't let your answering machine message give you away! Don't indicate on your home phone voice mail or answering machine message that you are out of town. You don't want would-be burglars to know how much time they have before you come home!
Stop all mail and newspaper delivery. Pause any daily deliveries, like mail or a newspaper, while you are away. Or ask a neighbor or friend to pick up your mail and newspapers while you are away.
Lock all windows and doors. That includes upstairs windows as well!
Never leave a key hidden outside. Would-be burglars know all the paces to look for an extra key (under a rock, under a doormat mat, or in an outdoor light fixture.) Instead, leave a key with a trusted neighbor or nearby relative.
These tips will help you play it safe both at home and while traveling, for Thanksgiving and any other trips away. We hope you can enjoy a safe and thanks-filled holiday weekend!
We hope you have a safe and special Thanksgiving holiday – one that does NOT include a homeowners' claim!