Five Techy Gifts That Don't Cost the Earth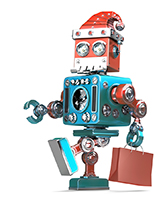 This year's crop of great tech gifts, gadgets, and gizmos come with amazingly low prices. So, whether you're buying for clients or friends and family (or indulging in a little retail therapy for yourself), consider these convenient, useful, low-cost items.
Video Streamers: At under $50, Google's Chromecast is one of the most affordable video streamers on the market. For just a few dollars more, the Fire TV Stick adds a dedicated remote control so you don't have to use your phone or tablet. The Roku Streaming Stick offers a wider selection of channels.
Audio Streamers: An audio streamer, such as the Chromecast Audio, enables you to beam music from your phone, tablet, or PC to any speaker in your house via Wi-Fi – for under $50. For travelers, consider a small, lightweight, economical Bluetooth audio streamer, such as the modestly priced Logitech X100.
Item Trackers: This year's hottest gift item may be a tiny, thin, lightweight device with a GPS receiver that attaches to keys, cell phones, wallets, bags, or even pet collars. Press a button and your item tracker emits a sound to help you find it. Choose from many brands, including Tile and TrackR Bravo, for less than $50.
For the die-hard griller, spend a bit more on the Grillbot Automatic Grill Cleaner. It's similar in feel and function to the Roomba vacuum – no elbow grease required.
There are literally thousands of low-cost tech items to choose from this holiday season, including economical fitness trackers, headphones, tools, accessories, and toys. So, happy shopping!