Flood Damage Equals Most of Interior Property Damage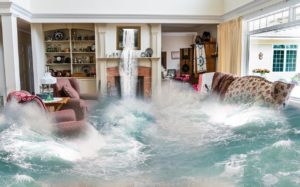 Did you know that Water Damage from a flood makes up 45% of ALL INTERIOR property damage?
Failure of a plumbing supply system is the #1 cause of non-weather related water losses.
Most homeowners are not prepared. Many do not know where their main water valve is located. Very few "inspect" appliances on a regular basis. While many homeowners invest in fire and security alarms, water leak detection devices are much less commonly used today.
This is where your Insurance Agent can help and you can better educate yourself….Begin a conversation with your agent about your current homeowners' policy coverages, and any precautionary measures you can take to help reduce and/or prevent water damage claims in your home(s).
How much coverage do you have for water back-up?
Floods are the #1 Disaster in the United States
7 out of 10 Presidentially-declared disasters are Flood-Related.
Floods occur in ALL Flood zones!
Do you have adequate Flood Insurance for your home? Need to review your policy? Contact Us today to help you prepare.