Be a Happy Quitter: These Resources Can Help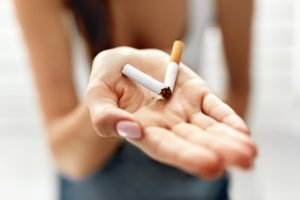 Everyone knows the risks of smoking. But as many former smokers can attest, quitting smoking may be the hardest thing you've ever done. Some people have attempted to quit up to 30 times before they're successful.
Even if you've failed before, there are many free programs and prescription medications that can help you succeed this time. For example, The American Lung Association (ALA) offers a program called Freedom From Smoking. Available online or by smartphone, this interactive program guides you through the quitting process with support from successful quitters. Additionally, Freedom offers small-group sessions around the country; you can find your local group through the ALA's interactive national map, by clicking on your state.
Smokefree.gov is another source of help. Whether you want to quit or you need help after you've quit, visit the free website and click on an appropriate link to get needed support.
Your healthcare insurance provider is a great resource to help you stop smoking. Medicare, for example, benefits if you stop smoking because medical interventions are typically less costly for nonsmokers. It covers smoking cessation medications, including sprays and some oral medications (Part D coverage may offer a wider range of medications than basic Medicare), and also offers up to four individual counseling sessions plus two quit attempts per year. And did you know that most health insurance companies also offer smoking cessation programs?
If you are currently enrolled in a plan through the Affordable Care Act (ACA, also called Obamacare), you may have some level of coverage for stop-smoking programs.
Future policy changes may impact your coverage, so if you're hoping to quit at some point, you may want to look into these benefits now.
But never quit trying. When a smoker quits, that smoker and his or her family members all benefit. And while it's difficult, you can do it with the help of these and other resources.