Higher Education: Easing the Cost Burden of College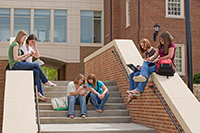 Higher education is a huge financial undertaking. According to a recent U.S. survey, families spent, on average, $23,688 in the 2015-2016 school year (including scholarships and grants) to send their kids to college or university. And even though that figure is slightly less than the year before, and students borrowed 13% of their school costs in the form of student loans, it's still a financial struggle for most parents.
No question, deciding which college or university to attend, what to study, and how to pay for it looms large. And it's not just about tuition, fees, and room and board; there are other factors, including the cost of living, transportation, books, and more, that affect the decision. The location is also a key consideration; attending a school close to home can save on travel costs.
Students and their parents will also need to consider the possibility of any scholarships and/or financial aid packages available to help pay for college or university tuition. Aside from taking out student loans and working part time, there are other ways students themselves can help out. Here are some strategies worth considering:
Get a student bank account. Many major banks offer free banking for students.
Buy and sell your used textbooks online.
Ask about student rates at movies, museums, concerts, attractions, and activities.
Take advantage of free events and activities, especially if these events will include free food.
Pack your lunches and snacks.
Use the school gym and other on-campus facilities.