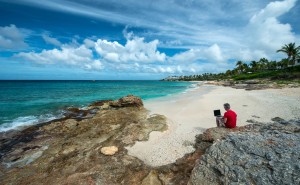 How to Avoid Ruining Your Vacation with Work
One in five people does some work while on vacation, according to a new survey. They check voicemail and email, and take their laptop away with them, said the AP-Ipsos poll.
The culprit is the spread of electronic devices and the increasing expectation that workers will be available — even when they're on vacation, say experts.
But it's also said that for a vacation to be truly relaxing, you need to shut off from the office. So how can you do that?
You're really not indispensable Many of us fall into the trap of thinking we are indispensable. But if we plan correctly, that usually isn't the case. So the first thing to do is to understand that work can continue without you.
Plan ahead Spend some time in the weeks and days before you go away arranging for people to take over every aspect of your work. Give people you trust the power to make decisions. Or create a set of rules over what can be acted on or what can wait until you return. Give detailed information covering issues that are likely to occur or decisions that will have to be made while you are away and provide a guide on how to cope with them.
If you must do some work… If you feel that it's essential to stay in touch with the office in some way, schedule some specific time to do it. Make sure your coworkers are aware of that time period and shut your phone and email off at all other times.