Life Is Good: So Why Are We Rocking the Boat?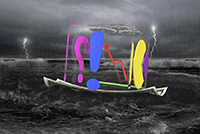 Why, when everything is going so well, do we rock the boat?
In a recent article on greatist.com, writer and life coach Susie Moore reports, "Self-sabotage is most common when life is at its best."
It sounds odd, but some people simply can't abide success. When they achieve it, they don't believe they deserve it, and they subconsciously frighten themselves into failure. Others feel guilty for leaving less successful friends behind – or they believe success is a burden and sabotage themselves so it doesn't happen again.
In her article, Moore highlights the work of author Gay Hendricks, who writes, "Conquer your fears and take life to the next level" in his book The Big Leap. Hendricks calls it "the upper limit problem," and asserts that everyone suffers at least a little from the conviction they've gone as far as they should or could go – their upper limit – and as a result, they give themselves a subconscious reason to build defeat into their next efforts.
Says Hendricks, "…the more successful you get, the more urgent it becomes to identify and overcome your upper limit problem." He insists that each of us must combat our upper-limit problem to achieve our full potential.
How? Face those fears. As Moore herself found, "Knowledge of these fundamental fears allows us to help release their power over us." She adds, "Transcending your upper limits is possible. You can choose an upward spiral. Your very own big leap awaits."
So choose the upward spiral…and don't rock the boat!