Why Life Insurance Equals Love for Newlyweds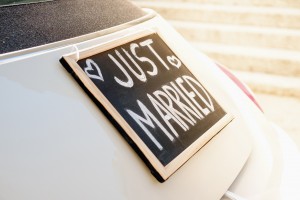 While it might not seem like the most romantic part of planning a future life of matrimonial bliss, it could be one of the most important. Life insurance is an essential part of creating a future together and making sure the one you love is provided for in any situation.
The first step in purchasing life insurance is to decide on the type of policy. There are essentially two primary types: whole life and term. Whole-life insurance tends to be more expensive but has a cash value that can offset a portion of the cost of the policy. Term life insurance is more affordable but has little to no cash value at the end of the term. Most term life insurance can be purchased for one to 45 years' duration.
Young, healthy and Non-Smoking People Get the Best Rates. Lock in the best prices while you are able. As with most insurance policies, the time to buy is when you least expect to need it.
Buy a Policy for Everyone. Even if only one person is working while the other is in college or remains home with children, it's important to plan ahead. Consider the cost of replacing the help the other person contributes. Don't forget to purchase enough to replace the lost income over a lifetime, not just the current level of expenditures or earnings.
Understand Taxes and other Obligations. Life insurance provided by an employer is good, but a self-purchased policy is often better. Not only does it remain in effect if you switch jobs, but it's not taxable in the event of a settlement.