Life Insurance for Newlyweds?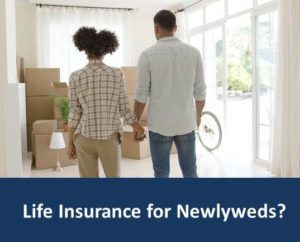 When you're building your life with someone else, you may need the protection that life insurance provides.
More than 40% of Americans have no life insurance, according to a 2015 study by trade group LIMR. Another 19% only have group life insurance (coverage available through work) which is rarely enough to cover a family's long-term needs. Here are some reasons to consider life insurance when you're a married couple and some options for policies:
You're adding expenses
Couples often use their combined incomes to take on bigger financial obligations, such as renting a nicer apartment, buying a home or new cars and/or having children. Many couples wouldn't be able to bear these costs on just one income. One of biggest reasons for buying life insurance is the income replacement it provides, which allows your family to continue with their plans and lifestyle.
Your spouse may inherit your debts
Any debts still owed when you die would have to be paid out of your remaining assets. This will reduce the amount of what you pass on to your spouse. In community property states (Arizona, California, Idaho, Louisiana, Nevada, New Mexico, Texas, Washington, and Wisconsin), your spouse would be responsible for debts you took on after getting married, such as personal credit card balances. Do you want to leave them on the hook for that?
Life insurance cost more the longer you wait
The sooner you buy a policy and lock in your life insurance rates, the more money you'll save over the long run, because prices go up with every year you get older. Buy it while you're young and healthy – if you later develop a medical condition you could pay much higher rates if you even qualify at all.
Once you've decided to add life insurance, the question becomes what kind of coverage to buy and how much you need. Your decision generally depends on what financial obligations you want to cover, how long those obligations last and how much protection you can afford.
What other questions might you have about life insurance? We'll be happy to help you understand your options.