Does Marijuana Use Affect Auto Insurance Rates?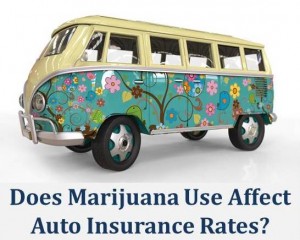 Marijuana is going mainstream. More and more states are allowing the recreational use of pot.  As the legalization of marijuana becomes more popular, people are wondering what this means for car insurance. Does marijuana use affect your rates?
The Data: Marijuana Use and Auto Insurance Rates
When comparing the percentage of Americans who regularly use marijuana (The Washington Post pulled this data from the National Survey on Drug Use and Health) with information from the Department of Insurance regarding auto insurance rates, surprisingly there is no correlation between marijuana use and car insurance rates.
Of the five areas with the highest auto insurance cost (Denver, CO; Huntsville, AL; Jackson, TN; Seattle, WA; Lawton, OK), only two (Seattle and Denver) are in the top weed-use category. It is notable that these cities are in states that have legal recreational marijuana. However, three of these expensive areas actually had some of the lowest rates of marijuana use.
Conversely, three of the cheapest areas for car insurance (Hawaii, San Bernardino, and San Francisco) have the highest rates of THC use.
So, according to the data, higher use of marijuana does not seem to lead to more expensive car insurance.
But why would this be?
There are a few reasons why there is no current correlation between weed and car insurance.
Insurance companies use several sources of information to set rates. This includes data about whether a particular geographic location is statistically more prone to car accidents. The more likely drivers in an area will crash, the higher that area's rates tend to be. If high rates of marijuana use lead to more crashes, we might expect those areas to have more expensive insurance. That leads to this question:
What are the effects of marijuana on driving and car crashes?
In May 2016, The Washington Times reported that in Washington state, which legalized recreational marijuana in 2012, the percentage of drivers who had used pot within hours of a fatal crash had doubled between 2013 and 2014.
This sounds bad, but it is nearly impossible to tell whether the drivers in these fatal crashes were actually impaired at the time. According to Science Daily, research shows that although blood tests can assess the level of THC in a person's system there is no science showing that drivers reliably become impaired at a specific level of marijuana in the blood.
The reality is that even if more drivers happen to have pot in their system after a crash, that doesn't automatically mean that the marijuana is contributing to more accidents.
Can You Get a DUI for Marijuana Use?
Despite the scientific unreliability of THC blood tests, many states, including some of those that have legalized recreational or medical marijuana, have laws against driving with pot in your system.
This means that in these states, you could be arrested and charged with a DUI for having THC in your blood, even if the marijuana isn't currently impairing your ability to drive. Having a legal prescription for pot will not exempt you from these laws.
DUIs can dramatically affect your own car insurance. You could receive significant rate increases for several years—up to $1,500 per year in some cases. You may have your policy canceled by the insurance company. In addition, your state may require you to purchase expensive SR-22 coverage to continue driving. To be safe, never drive while under the influence of alcohol or any drug.
What other car insurance questions might you have? Ask us – we can make sure you have the right coverage at the right price.