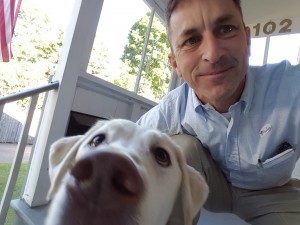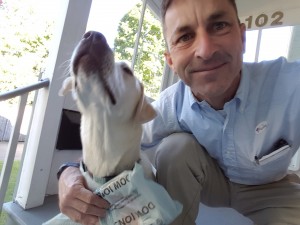 The Mystery is Solved – Meet our new paperdog, Zoe!
For a few months now, when I arrive at the office at 7AM, the morning paper is on the side porch (the entrance to our office). I know our paper guy doesn't do this. He just flings it into the yard from his car.
Anyway, I noticed one morning that the paper was right in front of the door, which was odd but good. And every morning for the past few months, there it is…sitting right on the porch, delivered with care. I figured someone that I know may have be doing this task, maybe to eek out a few bonus steps to our entrance on their morning walk. Maybe a way to legitimately add a few more steps on their Fitbit.
Every time I picked up the paper, I wondered "Who is the nice person that delivers our morning paper?"
So…this morning I opened the door to see Zoe (pictured above), with her owner/walking partner, walking toward the door. The paper was already on the porch, but she turned to greet me after hearing the door open. Truthfully, I didn't make the connection right away….but the story is that it's Zoe that skilfully and carefully delivers my morning paper. Not exactly an aha! moment, but the mystery was solved anyway.
Turns out Zoe took it upon herself one day to take the paper in her mouth and deliver it to my stoop. From there it turned into a regular routine. Now, it's her job to deliver my papers (and many others) during her walk down Boston Street and around town.
I thought this was totally awesome and worth sharing.
Thank you, Zoe!