Not Up for Carving? Paint Your Pumpkin!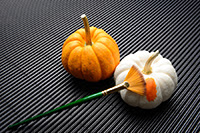 Don't panic if you didn't have time to create elaborate costumes for Halloween or turn your yard into a haunted house or showcase of fall beauty. There are simple things you can do to prepare for October 31, with materials that are easy to access.
Pumpkins don't have to be jack-o'-lanterns – smaller ones can be displayed on a tray with jars of jam or colorful plants. But if it's all about the jack-o'-lantern for your family, at least eliminate the mess and the concerns about using sharp knives around the kids: turn your pumpkins into chalkboards with chalk paint.
After thoroughly scrubbing your "canvasses," cover part of the pumpkin with chalkboard paint. Make sure you apply several coats of paint and let it dry between coats. Once dry, use your "pumpkinboard" to draw family caricatures or scary faces, or write messages for trick-or-treaters. You can use pumpkins of various sizes and shapes, and white pumpkins with black paint will lend a ghostlike presence to your Halloween décor. And, if you're missing the flickering candlelight in carved pumpkins, use a small electric candle to shine on your artwork.
The ghosts and goblins will love it!