It's

October 29

… Happy National Cat Day, Fluffy!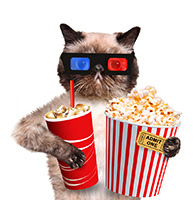 They entertain us with crazy antics. They keep our windowsills warm. They rid our homes of mice (at least, some do – others are too busy with their demanding nap schedules). They even lower our blood pressure. Our feline friends do so much for us, and it's time to honor them. This October 29, make your cat's day special. Here are some ideas:
Give your cat a toy packed with catnip. You'll enjoy watching his excited play as much as he enjoys playing.
Watch a cat movie with your cat. Maybe you could let her choose which one. Their favorites are usually the ones where the cat outshines a dog.
Tuna. Need we say more?
The Internet explodes with cat videos on Cat Day. Do some random viewing … with your cat. Who knows? He might find the antics of other cats and kittens entertaining too.
Maybe it's time to give your cat her own social media presence. Perhaps she'd like a Facebook page to connect with other kitties around the world. Maybe she has insights she wants to tweet about. (She would definitely like the Twitter logo.) With the right following, your pet could gain a social media presence like Larry – the resident cat at 10 Downing Street – who stays despite the turnover in British prime ministers. (Larry The Cat Stays Put Amid Upheaval Of British Politics)
Too much? At least give your whiskered friend an extra snuggle on

October 29

(and maybe an extra treat or two).
And if you don't already have a purrfect pet, it's a great day to adopt one!