Perseverance Sets Successful Entrepreneurs Apart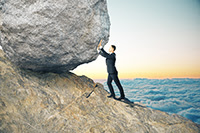 Entrepreneurship is not a glamorous career path.
Especially in the early stages, entrepreneurship is largely about having the chutzpah to see it through. As Steve Jobs once said, "I'm convinced that about half of what separates the successful entrepreneurs from the nonsuccessful ones is pure perseverance."
Points out Entrepreneur Inc. contributor Steve Tobak: "Having the vision to see what others don't, the passion to motivate yourself and others, the savvy to build and grow a business, and the guts to make good decisions are all part of the mix. But what binds those ingredients together is the tenacity to stick with it, day in, day out, year after year."
Forget all the hype about creative genius. More often than not it's simply willpower, forbearance, and the tenacity to deal with the stress and chaos of entrepreneurship that paves the road to success.
It takes energy, focus, and commitment plus a willingness to fail, pick up the pieces, and carry on. And it's often about being the last person left standing when others have given up.
As you advance toward your goal, try to surround yourself with people who believe in what you are doing and can provide constructive, practical advice. A supportive mentor or involvement in an incubator or accelerator program can help with this. If possible, avoid the naysayers, the doubters, and the cynics.
Try, too, to focus every day on the fundamentals of building your business, and take time to celebrate each step that brings you closer to your end goal. Just getting things done is often a great motivator.
As with life, building a successful business is a marathon, not a sprint. Perseverance does pay off.