Is Your Pet Trying to Tell You Something?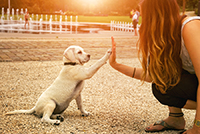 Pets can be loyal companions, but sometimes humans aren't. You're not mean; you just don't always get it. So Reader's Digest has compiled a list of things we furry family members would like you to understand, such as:
Teach us good behavior early, and be consistent.
We dogs wag our tails to show approval, but also when we're afraid. Tail-wagging doesn't always mean we want to be petted.
Cats are hunters – we want toys we can grab, not laser lights.
Soft Frisbees don't hurt doggy gums so are better for playing fetch.
Don't waste money on gluten-free pet food.
Treat us as you'd like to be treated if you were lucky enough to be a dog or a cat!