Prevent a Thanksgiving Disaster Using These Tips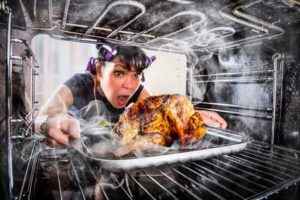 Thanksgiving is a time to share a special meal with family and friends – but did you know it is also the #1 day of the year for kitchen and home fires?
Here are some ways to stay safe in the kitchen while preparing to give thanks:
Remove fire hazards. Remove anything near your stove that could catch fire, including wooden utensils, oven mitts, plastic bags, or towels (paper or cloth). Be careful with aprons, apron strings, and long hair.
Keep a fire extinguisher in the kitchen. Be familiar with how the extinguisher works! Teach others, in your family, how to properly use the fire extinguisher.
Take extra precaution with turkey fryers. Turkey fryers increase your personal risk of burns and also increase the risk of setting your home or garage on fire. In fact, more than $15 million dollars' worth of property damage occurs every year in the U.S. due to deep fryer fires. Be sure the oil used to fry the turkey is the proper temperature and always use the fryer outside, far away from structures, and in a well-ventilated area.
Be careful with candles. If you are lighting candles for decoration or scent, remember to never leave the candles burning unattended and be sure to keep other flammable items far from the candles.
Avoid bad air. If you are using a natural gas or propane stove, be careful of a carbon monoxide build up in the home. Open windows and/or run vents in the kitchen, particularly the ones over the stove.
Make sure smoke alarm batteries are fresh. You should already have smoke alarms in your home, so be sure to test the batteries and make sure they are working properly. Early warnings can be life savers!
Know what to do in case of a fire. If a fire does occur, shut the stove off and cover the fire or burning pan with a lid, and use the fire extinguisher properly. For a fire in the oven, turn the oven off and leave the oven door closed. Call 9-1-1 to report the fire and quickly exit the home.
We hope you have a safe and special Thanksgiving holiday – one that does NOT include a homeowners' claim!