How to Protect Your Business From Catastrophes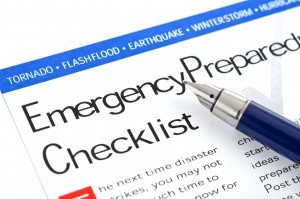 It's important to have enough coverage to pay for both direct and indirect costs.
When it comes to natural disasters, most people immediately make sure that their homes and belongings are covered by insurance. Unfortunately, far fewer stop to consider the full impact on their business. The same storm, earthquake or other natural disaster that wreaks havoc on your home is likely to impair your business assets as well.
The following are some tips to protect your business from natural disasters, including hurricanes, floods or other events:
Know Your Coverage Needs
More than 30% of small-business owners never re-open after being hit by a natural disaster, according to research. A natural disaster can exert a heavy toll, and without proper protection in place you could lose a significant portion of your income or business assets.
In addition to purchasing liability protection, small business owners should do an annual risk assessment to determine their coverage needs. Company-owned assets, including buildings, vehicles, data and equipment, are typically covered, but don't forget to include rental space or leased items. Personal property used for both home and business should also be included when obtaining a coverage quote, as should improvements and modifications made to structures and equipment.
Surviving a Financial Storm
Don't forget the indirect costs associated with a small-business claim during a natural disaster. Make sure that you have sufficient coverage to pay for both direct and indirect costs, such as loss of use while repairs are made to a building, additional rental payments, disruption of business and inability to meet deadlines due to delays. Ask your agent about business interruption coverage to help pay for operational expenses in the event of a claim and about extra expense coverage to help compensate for costs above and beyond normal operational expenses caused by the claim.
Disaster Planning
It's also important to have a disaster recovery plan in place.
Identify financial, staff and work process protocols in advance. Not only will it help identify areas in need of additional attention, but it will ensure a minimum amount of disruption should an emergency arise. Be sure to work closely with your agent to develop a comprehensive insurance plan if staff, data or equipment will be used at home or in temporary settings. Additional liability or property coverage may be required to ensure seamless integration.
Ask Your Agent
Unsure where to start? Ask yourself the following questions, and then obtain a quote from us:
What are my policy deductibles and limits?
Is my insurance sufficient to cover needed repairs, disruption of business and liability concerns?
Are improvements to the building, equipment or property fully covered?
Do I need additional coverage for a flood, hurricane or earthquake?
Do I have business interruption coverage?
Are extra expenses required to conduct business during repairs or disruption of business?
Do I have gaps in my coverage or policies that need attention?