Quick Cacao Facts for Chocolate Lovers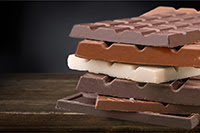 Did you know February isn't chocolate's biggest month for sales? Close to 90 million pounds are purchased the week before Halloween. That's nearly double the 48 million pounds sold during the week of February 14.
If you plan to be part of that 48 million, you can further impress your sweetheart with the following knowledge about your Valentine's Day gift. The alluring treat has a history both dark and sweet:
– The Latin name for cacao trees means "food of the gods."
– The word chocolate comes from a Mayan term that means "bitter water."
– Mayans used it in baptisms and marriages.
– Mayans also sacrificed children to ensure a good cacao crop.
– Between 40 and 50 million people are involved in cocoa farming and production.
– The Industrial Revolution made chocolate available to the masses.
– Chocolate drinks can boost energy more than sports drinks.
– Dark chocolate's benefits include increasing memory and attention span.
– The "buzz" from eating chocolate can outlast the highs produced by kissing.
– To get the benefits of dark chocolate, make sure the top ingredient isn't sugar.