Safe Cars Cost More to Fix?!?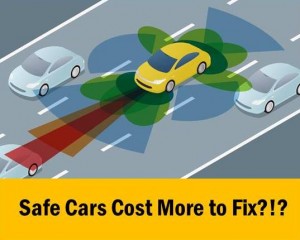 New cars with crash prevention technology are contributing factors to soaring auto insurance rates, according to a Wall Street Journal article published April 3. The coveted safety features such as autonomous braking, microprocessors, and rear-view cameras are often located on the very parts of the car that are most prone to be damaged in accidents, such as the bumper. When these safety devices need to be replaced, the replacement cost can be up to 500% more than the same parts without those safety features.
According to the Wall Street Journal article, a conventional driver's side mirror on a 2015 Mercedes-Benz ML350 costs $166. But if that mirror has collision-avoidance technology built into it, it will cost $925 to replace. Similarly, a conventional mirror on a Lexus RX 350 would cost $390, but with the integrated safety technology, that cost balloons to $840.
The article also explains that not only the owners of these high-tech vehicles are paying more, but even drivers with "basic" cars lacking these expensive gadgets are paying more. This is because even drivers of basic cars may cause expensive damage to the increasing number of "safe" vehicles also on the road. David Long of Liberty Mutual said, "Safer vehicles are more expensive to repair."
This makes it more important than ever to make sure you have the right balance of protection and affordability. So ask us! We're happy to review your current car insurance and make sure you understand what your policy covers, whether or not you have enough liability insurance, and check for all available discounts!