Strategies to Cover Home-Based Workers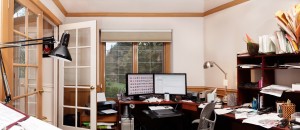 As more employees work from home, small-business owners are encountering the need for specialized safety strategies to reduce the risk of job-related accidents or injuries. Research conducted by Gartner Inc. shows that the number of remote workers is expected to surpass 46 million by the end of 2011. But just because a worker is out of sight doesn't mean he or she isn't prone to job-related injuries. Everything from an auto accident to a fall can result in an increased insurance claim for your small business. Following are some safety strategies to help remote workers and protect companies:
Purchase Company-Approved Property: One easy way to help employees stay safe is to provide company-approved tools, furniture and other items for use in day-to-day business. Emphasize that company-sponsored equipment and supplies are to be kept in good working order and are subject to regular inventory control.
Enhance Insurance Options: Be sure to speak with your agent about sporadic or occasional use of company and/or personal property by employees, including specialized riders for auto policies and liability coverage.
Mandate Training and Encourage Open Communication: Remote employees often feel left out of mandated training for common safety concerns. By providing training on additional safety skills, including ergonomic awareness, you can reduce employees' the risk of long-term chronic conditions caused by poor posture or other potential problems. Open communication is another essential element to ensure that remote workers speak up when they encounter a problem. Rather than leaving employees on their own, encourage them to speak up about work-related problems both on-site and remotely.