Symphony in F Flat: Ding, Click, Beep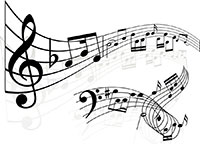 You start your car. It dings repeatedly until you fasten your seatbelt. You open the door, and you hear an alerting chime. You might have hit that deer, but your car's collision warning alarm shrieked at you.
Did you know car manufacturers invest significantly in choosing these sounds? They're not simply random noises added to your vehicle. According to CBS News, it's someone's job to find just the right tick, click, or beep for each situation. These "vehicle harmony engineers" hope to ensure the noises you associate with their vehicles enhance their brand; if you find your car's chirps annoying, your next vehicle may be from another manufacturer.
As cars become more complex, these noise engineers have their work cut out for them. Today's vehicles require a lot more than turn signal clicks and horn honks. Advanced safety alerts and luxury climate systems all add new pings and pongs to the musical melody of your car's interior, and manufacturers may spend up to a year trying for the perfect sound. They even consult Hollywood sound engineers to produce these ideal jingles and jangles. So remember, the next time your car clicks, time and money went into that noise.