Texting is the New Drunk Driving
This story originally ran July 12, 2017,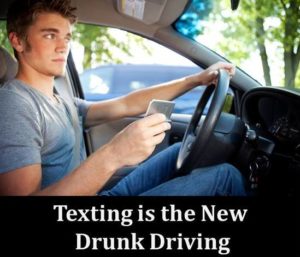 on Fox Affiliate Q13 in Seattle, Washington. It has been edited for use here.
A new distracted driving law is less than two weeks from taking effect in Washington. The law bans the use of handheld devices behind the wheel, even stopped at a red light. It's a primary offense, and it will go on your permanent record.
"The $136 ticket you get is going to be nothing compared to the insurance consequences," said insurance agent Toni Matous, who works at Magnolia Insurance Agency Inc. in Seattle.
The fact that the distracted driving ticket is a primary infraction and will go on your driving record is what Matous said most of her clients do not know. It's why she's urging everyone to get ready before the law goes into effect.
"You need to have a Bluetooth device in your car if you don't have one get one retrofitted into your car," she said.
"If we see you doing it, we can pull you over," said King County sheriff's Sgt. Cindi West.
Deputies will begin enforcement on July 23, along with every other law enforcement agency in the state, and they said it will be easy pickings.
"Anyone can drive down the road and look to their right or left and see somebody watching a video, texting a friend, it's just a daily occurrence. So it's not going to be that difficult," said West.
It's exactly what Matous said insurance companies are banking on, quite literally, she said.
"The insurance industry is losing big, losing big in the personal auto insurance industry and they're reeling, trying to find out how to find out how to solve the problem," she said. "This is the new drunk driving. The insurance industry has actually notated this as a DUIE or driving under the influence of electronics."
Insurance companies have already raised rates across the board in the last year to recoup increasing costs, said Matous. One Washington provider, she said, raised their rates on every client by 35 percent, whether they had a clean record or not.
Matous gave the example of one family that had recently added their 16-year-old son to their plan; everyone in the family had clean driving records.  But she said their rates went from $1,600 a year to $5,200 a year. She said if that teen were to get a DUIE, their bill would go even higher.
"That ticket is going to spread across all three vehicles," she said. Depending on what kind of vehicles the family owns, "it could get up into the thousands."
Distracted driving is a major reason why car insurance rates are increasing across the country. If you are a safe driver, let's look at the options available for you.