Be Thankful These Turkey Tales Didn't Happen to You!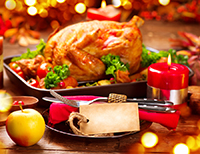 From the main course to the fall centerpiece and charming napkin holders, you hope to wow guests with an enchanting Thanksgiving experience.
While accomplishing the many tasks needed to make this happen can weigh heavily on your mind, note that, as several Houzz.com  readers shared, this "weight" isn't the one to focus on!
Tough tables only – Crystal Swanson tells Houzz about her heavy meal: "We had a gigantic meal prepared. I set up an old metal folding table in the kitchen to serve the feast. Before my very horrified eyes, as we were starting to dish up buffet-style, the entire table collapsed due to the weight of the food and dishes and sent everything cascading to the floor."
No leaning allowed – "Zeebee" posts about the time they extended the table to accommodate their large family: "A relative leaned heavily on the table extension, which made the legs buckle at one end of the lo-o-o-n-g table. Everything that couldn't be grabbed went cascading onto the floor…my mother-in-law lost all of her wedding china in the crash."
Durable disposables, please – "Spookyjimjam" recalls their first Thanksgiving in their rental apartment before they could afford nice china. "My…husband carried the turkey pan to the table… (T)he disposable pan buckled just as he made it to the table, and everything – the turkey and about half a gallon of drippings – went straight on the carpeted dining room floor." Worst of all, they didn't just lose their feast, they lost their apartment security deposit.
The moral: make this Thanksgiving a "solid" event.