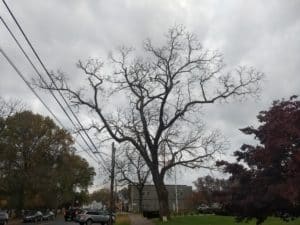 The Homeowners Insurance Policy and tree removal.
Say you're sitting there watching a football day on a crisp, but windy fall day. All of a sudden you hear a crack and then see a large tree fall into your yard. No one is hurt, the tree did not fall on, or damage, your house.
The Homeowners Insurance Policy and tree removal. So, here's the deal, this is an example of a very typical homeowners insurance policy, and the coverage that is afforded for tree removal.
We will also pay your reasonable expense, up to $1,000, for the removal from the residence premises"of:
(1) Your trees felled by the peril of Windstorm or Hail or Weight of Ice, Snow or Sleet; or
(2) A neighbor's trees felled by a Peril Insured Against;
provided the trees:
(3) Damage a covered structure; or
(4) Do not damage a covered structure, but:
(a) Block a driveway on the "residence premises" which prevents a "motor vehicle", that is registered for use on public roads or property, from entering or leaving the "residence
premises";
or
(b) Block a ramp or other fixture designed to assist a handicapped person to enter or leave the dwelling building.
The $1,000 limit is the most we will pay in any one loss, regardless of the number of fallen trees. No more than $500 of this limit will be paid for the removal of any one tree.
This coverage is additional insurance. It would be subject to the deductible.
One other thing to  consider is whether the claim will raise your rates. Also it might jeopardize your renewal. This is true if you've had other claims. It's a good idea to talk to an independent, professional insurance agent. Please fee free to call us with any questions.
Page Insurance, Ltd (203) 453-5258