Three Easy Ways to Cut Household Expenses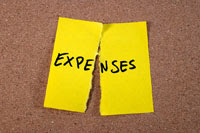 For many of us, it can be shocking to see how quickly our household expenses add up; it may feel like our entire paycheck goes toward paying bills!
Thankfully, there are a number of ways to cut back on our monthly expenses to relieve those financial burdens.
TV
With the emergence of so many available streaming services like Netflix and Apple TV, there are few reasons to have intense cable packages. Reduce your bill by downgrading to basic cable, or cut out your cable service entirely. Not only will you save money on your cable bill, but in reducing your TV viewing, you'll cut costs on your electric bill. Win-win!
Insurance
It can be a major investment in time and energy, but it will pay you to renegotiate your home and car insurance. According to a Forbes article, "you could be missing out on a lower rate if you don't shop around for new insurance at least once a year." Insurance rates are always fluctuating, and it's a very competitive industry. So it's in your best interest to make sure you're paying the lowest possible rates (while at the same time ensuring your insurance policies give you the coverage you need.)
DIY
Although it's easier to pick up cleaning supplies at your local store, you'll save money by getting rid of these expensive products altogether. As a writer, Clare Hudson, points out in a Lifehack article entitled 30 Ways to Cut Your Monthly Expenses, you can easily make your own cleaning products with household staples like vinegar, baking soda, and lemon juice. And they're just as effective (and usually less damaging to your family's health) than the expensive stuff.
It will take a concerted effort on your part, but there are ways to cut back on your monthly expenses.
Give it a try: the savings just might surprise you.