Three Ways to Make Family Camping Fun – Not Stressful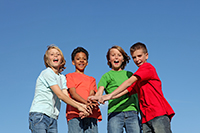 Camping should be a great way to see new places, meet new friends, and bond as a family. But some may find time bonding with the kids stressful … and maybe a bit overwhelming. Take those concerns out of the equation with the suggestions below. And enjoy this inexpensive way to celebrate nature and each other – without technology taking over.
These three tips can make family bonding a pleasure:
Do Research
Find the perfect spot for your family online. If you're camping newbies, the best campground should be one with amenities that's also close to a town. As Scott Adler, editorial director of BabyCenter.com, says in an article in Real Simple, "That way … if there's a pizza place, someone can pick up a pie and make dinner a lot easier on Mom and Dad. You'll also be less stressed when (almost inevitably) you realize you've forgotten something."
Consider the types of activities you plan to do. A biking family, for example, may choose a campground near paved roads.
Generate excitement
Engage the kids by getting them involved in planning the trip. Get feedback about what they want to do and foods they want to eat, and let them pack their own bags. At the campsite, encourage older children to pick the spot to pitch the tent, and then put it up together.
Go high-Tech
It can be a culture shock to go from staring at your screen to staring at the night sky. Instead of forcing your kids to do without their devices, let them bring some technology, but also include favorite books and games. As Jen Aist suggests in Real Simple, use their facility with technology to help the kids engage with the outdoors, for example, by locating stars with a GPS.
Best of all, let them play. As Aist notes, "Something magical happens when you are outside that doesn't happen in other places."