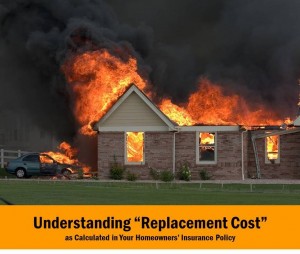 Understanding Replacement Cost
"Replacement Cost" specifies the maximum amount your home after a covered event. But how that limit is calculated – and what it includes – is important to understand.
If your home is damaged by a covered event, such as fire, a windstorm, a hail storm, or a vehicle crashing into it, your insurance company has you covered, right? Keep in mind that earthquakes and floods typically require special policies.
The answer is most likely yes – but you need to take a specific look on your declarations page (see: "dwelling") to see the maximum amount of money your insurance company will spend to repair or rebuild your home.
Your "dwelling" typically means the core structure of your home including floors and ceilings, the roof, doors and cabinets. There are additional coverages, with separate limits, for your personal belongings, furniture, any outbuildings and usually living expenses if your home becomes uninhabitable and you have to rent a place for a time. But, the money available from your insurance company to repair or rebuild your home needs to be as close as possible to what it really would cost to rebuild your home (not including the price of the land).
How is Replacement Value Calculated?
Some insurance companies use a software program that considers the year the home was constructed, and the square footage, but that may not accurately convey the other factors such as the value of interior finishes.
Some insurance companies will send an inspector to evaluate the home, which generally provides a more accurate estimate.
If you are not sure if your maximum repair / rebuild amount is sufficient under current market conditions, ask for an on-site inspection so you can be sure that the insurance company has all the right information, such as square footage, additions, upgrades, remodel work, number of bedrooms and bathrooms, etc.
Replacement Value vs Cash Value
If you have "Replacement Cost" insurance that means your home will be repaired or rebuilt at today's price. This provides the best protection and helps keep up with inflation and rising construction costs.
If you have "Cash Value" coverage that means your policy will only pay the depreciated value of what you lost, which might be more appropriate for personal belongings inside the home.
Some insurance companies offer "full" or "guaranteed" replacement cost coverage, which pays whatever it costs to rebuild your home without any limits in place. Such coverage is generally only available for very high end homes.
Note: Unless your home is completely destroyed (which can be the case with fire or tornados), you will likely never need the full dwelling replacement value.
Let's talk about protecting your home, property and other possessions. Together we can select options that provide the right coverage at the right price.